Do you want to start sharing your travel experiences? Want to share advice and tips on where to travel? You may be thinking of starting your own successful travel blog and sharing all the information with others.
Ok, in that case, you've probably read many articles on how to start a successful travel blog using various content management systems – such as WordPress or others. You've figured out what you need to buy for services and what you need to do to get it done, and maybe a lot of things are discouraging.
I want to show you how to do it easier and faster.
Travel blog with Public album
Public album is a photo sharing service that is directly designed for this type of blogging, such as a travel blog.
The Public album service combines the benefits of a photo gallery, blog and social networks. It is based on the fact that the informational value of a photograph for some types of contributions exceeds the value of the text. The photographs are the main building block of the story and are accompanied by additional text.
The public album is perfect for starting your own travel blog.
The benefits of a travel blog created with Public Album
The public album brings several benefits that will come in handy for your new travel blog. Here are the main ones:
Each Public album user has their own profile, which is public and has their own simple url address. This profile contains all your posts – stories.
https://www.publicalbum.org/pavex
Example of profile url address.
Post – a story, is composed of photosets (either one photoset or more). Each photoset can represent, for example, one day of your trip or a place you visited on a given trip.
The photoset contains a set of photos, including a caption and a detailed description.
In practice, the stands of a travel blog look like this: I won't go into too much detail and I'd rather show you practical examples of how I do it. How I create a report from my travels for my friends but also for the public.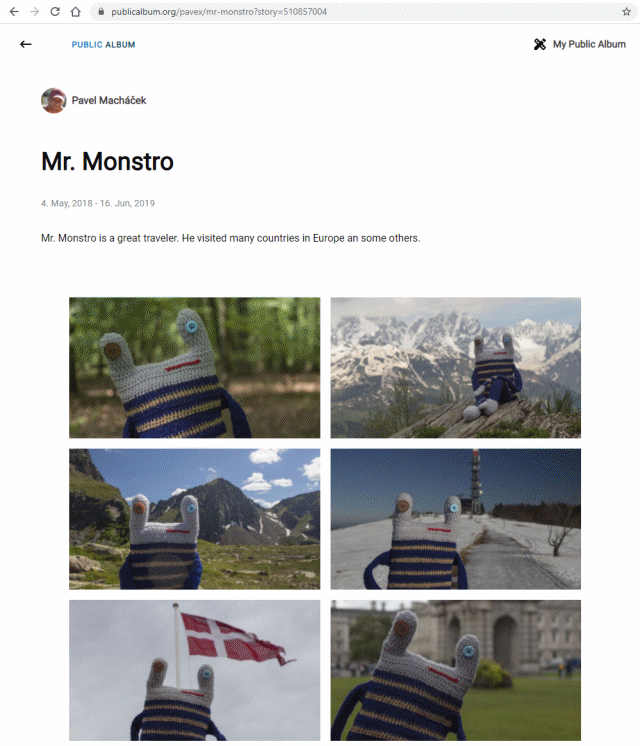 The three points mentioned above form the basis of Public album contributions. And you get much more:
All your posts will be visible in one place and will be shared across the Internet – the content is searchable using Google and other search engines.
The service is free, you do not have to spend money to set it up. You can start creating your travel blog stories right away and share them with others.
And because this is a young project that is constantly evolving, you can also participate in its development with feedback. Therefore, if you have any suggestions for improvement, do not hesitate to contact me.
How To Start A Travel Blog With A Public Album.
It's easy, just create a Public album account and you can start creating your travel blog.
Create a profile and start sharing your stories with the Public album photo sharing website.
---